Mold can grow at the most inconvenient of times. You may be in the midst of a completely separate disaster such as a flood.
Or perhaps you discovered it when moving storage items from the basement. Either way, there's probably one question buzzing around in your head: what now?
The Mold Remediation Process
Basically, mold remediation is the act of removing a mold infestation from a residential or commercial building. Here is what that process looks like.
Typically, the first course of action after you discover mold is to remedy any potential leaks or clear out flood/standing water if applicable. Next, call a reputable restoration expert. Once you schedule an appointment, the mold remediation process can begin.  
Before the appointment, be sure to clear the area to allow for easy movement between the mold-infested areas and the nearest exit. Clear the path so the restoration crew can easily tote equipment inside. Be sure to keep children and pets away from the site. If the standing water was from sewage backup, skip this step and immediately leave the premises as it is unhealthy to be in the proximity of blackwater.
When the restoration team arrives on the scene, they'll suit up in spacesuit-like (hazmat suit) protective gear and place down plastic sheeting in the areas they'll be walking through. These suits are standard protocol and nothing to be alarmed about. They'll wear protective gear even if the mold isn't as toxic.
The actual mold removal is a fairly simple process. The restoration crew will spray an EPA-approved biocide in the affected areas. Once they thoroughly coat the problem zones, they will leave the solution to kill off mold spores overnight.  
The next day, the team will come back to finish the job. After they suit up, they'll get to work spraying an encapsulant to trap any remaining spores. Essentially, an encapsulant is paint or whitewash that will prevent any future mold infestations. They will usually spray encapsulate in unaffected rooms as well just in case any rogue spores traveled away from the infestation zone.
Once they finish with the encapsulate, the next step is to filter the air with a high-efficiency particulate air scrubber. This will force ventilation in affected areas and help filter out any lingering mold spores. Next, they'll use a HEPA vacuum to pass over any additional areas where spores may be hiding.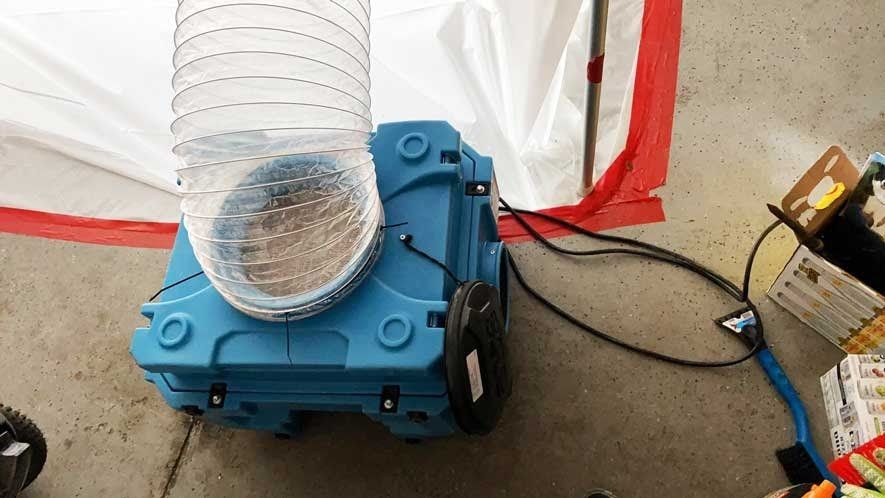 How Much Does Mold Remediation Cost?
The cost of mold remediation can vary depending on where you live and the severity of the infestation. It will usually range anywhere from $500 to $6,000. If a covered peril –i.e. storms or falling objects– caused the mold infestation, your insurance may pay for the mold remediation.
Read our article on what homeowner's insurance covers when disaster hits for more information.
How to Prevent Future Mold Infestations
There are a number of ways to protect your home from mold infestations. Prevention is the best line of action against mold.
A major key to prevention is fixing any leaks you notice as soon as possible. A mold infestation can take hold as soon as 24 to 48 hours after a leak forms. Be sure to get ahead of any potential problems before they have a chance to begin. Here are a few other quick tips to mold prevention:
Dry up wet areas immediately. Mold needs moisture to thrive. Be sure to dry up any standing water. This is especially important in problem areas such as your bathroom.
Don't pile up wet clothes or towels. Moist, bunched up fabric is a breeding ground for mold.
Use a dehumidifier. If you live in a humid climate, a dehumidifier can be a great tool to prevent mold growth. Your home should be between 30 and 60 percent humidity.
Open a window. Proper air circulation helps discourage mold and can decrease excess moisture.
Use the bathroom exhaust fan. Be sure to run your exhaust fan after every shower to usher moist air out of your home.
These are just a few methods to prevent a mold outbreak. Essentially, the goal is to reduce the moisture and humidity in your home. Clean up water and be mindful of potential leaks.
Call on Restoration 1 of Central Denver In Your Time of Need
When mold happens, you can count on Restoration 1 Central Denver to handle the situation promptly! When it comes to mold, we know it's vital to get on top of the situation fast so it can't outgrow you. That's why we offer emergency water damage and mold removal services for your convenience. Contact us today if you're in the Denver Metro area!